Yes, digital signage is a great promotional and branding tool for casinos, but it is actually a multi-purpose technology that is also used as architectural wall coverings. Creating moods using digital signage technology is not only found in NYC's Times Square, or Tokyo's Shibuya. Industries such as hospitality and gaming, and venues such as are taking advantage of this immersive feeling created by engaging visuals on digital screens. Some casinos have started testing this multi-purpose concept such as the iconic Cosmopolitan Casino Hotel in Las Vegas. It is now finally being realized by some mid-size to smaller gaming establishments.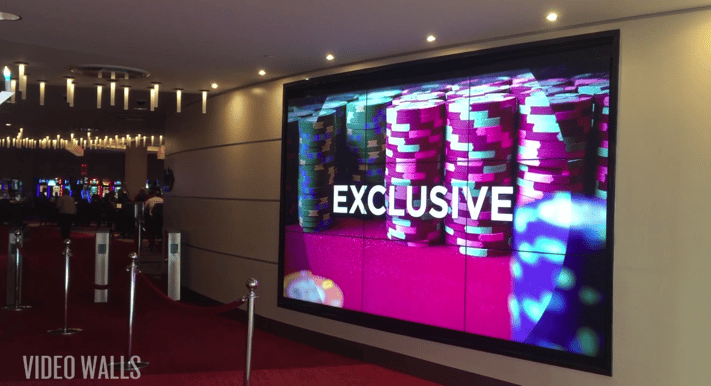 With the use of robust content management platforms, casinos have the ability to easily change content on screens throughout the day. This scheduling method is referred to as day-parting. It can be leveraged as a marketing tactic to reach specific target audiences at specific times of the day. Since the screens have the ability to run different content throughout the day, promotions that older gamers respond to during the day can later be switched to ads that clearly target a younger night time audience. This use of day-parting is an economical and creative approach to reaching target audiences.
Using large digital screens as mood elements rather than advertisements is easily done using day-parting and synchronizing screens. Casinos like Las Vegas's Cosmopolitan, Atlantic City's Tropicana and New York's Turning Stone Resort Casino use day-parting as a mood enhancer for the casino and nightlife ambiance. The screens create an artistic and edgy backdrop to their lounges and casino floors. 3D animators and motion graphic artists can digitally produce artistic visuals that are ultra-modern and sleek. At any time, these casinos can change their theme on the floor by using different animations played across their digital screens.
The technological flexibility casinos have is now being utilized by gaming establishments of all sizes. It is a more effective and efficient method than remodeling the gaming floors because no area of the floor needs to be sectioned off for renovations. This minimal "re-techoration" allows constant use of the machines and lounges, meaning no money is lost during any period. Casinos can simply order a new theme from an agency specializing in this type of visually-appealing content for digital displays.sports stadiums and entertainment arenas