The museum franchises, Ripley's Believe It Or Not!, who are known for being fantastic and unbelievable are typically located in the heart of the commotion within their cities' tourism districts. In New York City, NY, the museum's location is certainly located in the center of it all, Times Square. Times Square is world renowned for its larger-than-life LED screens filled with eye-catching and mesmerizing motion graphics that are playing every minute of every day.
Ripley's wanted a large, attention-grabbing LED digital sign and decided to call on the expert services of LED manufacturers, D3 LED, and content creators and managers, Render Impact (part of SPI), to help them achieve a seamless experience. "When we launched our state-of-the-art LED sign in the heart of Times Square, we needed to make sure we were aligned with the very best in the industry", stated Michael Hirsch, former President of Ripley's Time Square.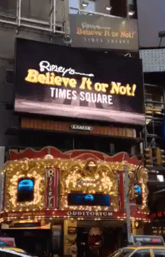 The Ripley's Believe It or Not! Times Square museum knew they needed dynamically engaging content to play continuously throughout the day in order to attract the attention of tourists and increase foot traffic. To help fill time slots on the screen, Ripley's rented ad space to companies through LAMAR, best known for their outdoor billboards and advertising capabilities. The marketing and management team at the museum was aware that it required timing precision concerning placement of the ad spaces and they did not have the time nor the resources needed to effectively create their desired goal.
The Ripley's management team chose one of D3's outdoor displays (using 864 pixels wide X 480 pixels high) and their software for management, TrueElement. Frank Barnes, Executive Sales Director of D3 LED said, "We worked closely with Ripley's Believe It or Not! to develop the most efficient technology solutions for this unique project. The final product has spectacular brightness, viewing angles and resolution, enabling Ripley's to stand out even among Times Square's most vibrant displays." The end goal of the digital signage display was to allow patrons to interact with each other through social media, using Twitter and Vine posts pushed directly to the screen, in addition to running their own content and selling ad space.
Render Impact was called upon to create some of the compelling video ads for the museum using 3D animation and motion graphics. "We were tasked to produce content that would stand-out above the noise of Times Square. Passer-by traffic was constantly looking up at the dynamic screen - I think we succeeded", said Michael Tully, VP of Render Impact. With the help of D3 LED's screen technology and software and Render Impact's content creation and management, the Ripley's Believe It Or Not! Times Square museum was able to achieve their goal of displaying dynamic digital content on a large format, high quality LED screen. "Render Impact demonstrated top tier, best-in-class services from the get go. From content management to content development to customer service, Render Impact delivered outstanding results and consistently went above and beyond what was expected of them. As opposed to a vendor, they were a partner", said Hirsch.
Render Impact (SPI):
Render Impact is a motion graphics agency that produces dynamic digital display content for thousands of screens that reach millions of viewers every year. Render Impact creates powerful, award-winning motion graphics and 3D animations that will engage audiences and compel them to take action. The Render Impact team prides themselves on high quality design, fast turnaround and top-notch customer service. Whether you have one small project or 50 large projects across a multi-channel network, Render Impact has a solution to fit your needs. No project is too large or too small and the same can be said about the screens on which it's displayed. Learn more at: http://www.renderimpact.com/
D3:
D3 is a global technology company that designs, engineers and manufactures turnkey LED display and lighting solutions that enhance destination-based digital media experiences. As a total solutions provider, our expertise is recognized across a worldwide portfolio of projects for the Advertising, Architecture, Entertainment, Gaming, Retail, Sports and Transportation markets. Learn more at http://d3led.com/