The Render Impact creative team won two American Advertising Awards in early 2016 for a motion graphics TV commercial and logo animation created for the Prairie Band Casino & Resort. The Prairie Band Casino & Resort submitted the entries on behalf of Render Impact to the 9th District of the 15 total AAF National Districts. The 9th District, also known as the Topeka AAF Club, held their awards ceremony on February 1, 2016 with a Mad Men themed party. Click here to see the motion graphics videos the Render Impact creative team produced for Prairie Band Casino & Resort.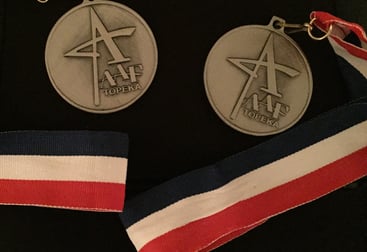 The American Advertising Awards, formerly the ADDYs, is the advertising industry's largest and most representative competition, attracting over 40,000 entries every year in local AAF Club (Ad Club) competitions. The mission of the American Advertising Awards competition is to recognize and reward the creative spirit of excellence in the art of advertising. Render Impact, who also won 8 Gold Pixie Awards for their digital signage motion graphics and animated videos done throughout the 2015 calendar year, is no stranger to prestigious recognitions for their innovative motion design work. Click here to see and watch all of Render Impact's gold winning Pixie videos.
The process is conducted and hosted annually by the American Advertising Federation, the local Ad Club phase is the first of a three-tier, national competition. Concurrently, all across the country, local entrants vie to win ADDY Awards—recognition as the very best in their markets. At the second tier, local ADDY winners compete against winners from other local clubs in one of 15 district competitions. District ADDY winners are then forwarded to the third tier, the national stage of the American Advertising Awards. Entry in your local Ad Club competition is the first step toward winning a national ADDY.
Entering the American Advertising Awards supports the entire advertising industry, because the AAF and its local and district affiliates use the proceeds to enhance advertising through programs such as public service, internships, advocacy groups, advertising education, and consumer awareness.