There are many different thoughts, ideas, and goals that run through your head when deciding to invest in digital signage for your business. The biggest thought is often based around what content is going to run on your digital screens! You've done your research, seen what your competitors are doing, and are ready to install the screens. The big, empty screens are waiting to be filled with content for your audience to see. There are different options when planning and creating your digital signage content; two of the biggest design options are Custom Creation versus Template Driven. Both content creation options will help fill your screens, but they will likely produce different results and have a different effect on your audience. Here are some major factors to consider when deciding which is right for your business.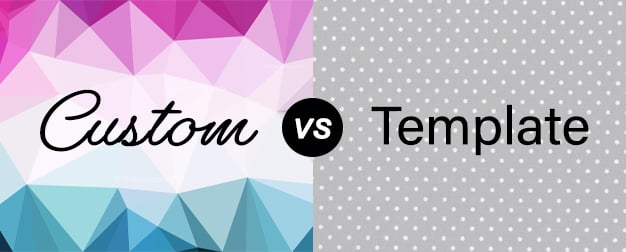 Budget
There's no reason to sugarcoat it - using templates is obviously a cheaper way to create content for your digital signage. For some people that might be the deciding factor - find the cheapest solution and clean their hands of anything else. They will buy software templates and just take care of their content in-house whereas custom content does have a heavier price tag but typically yields a higher ROI. Do you want dynamic video advertisements that can be distributed from different outlets of your business with a consistent design? You can do that with custom content creation and get a higher return on your investment. Two-thirds of consumers say that digital signage has caught their attention and out of those two thirds, 40% prefer to shop directly at the store where they had seen video advertisements. Judging by those statistics, your ROI should exceed the amount you are using to get custom content created.
Originality
Your business is one-of-a-kind, so why would you put the same template-based content on your digital displays that your competition is using? When using templates, you get the one-size-fits-all approach to your content, but it's not necessarily fitting all the criteria you have for your advertising. Hiring an experienced digital signage content design partner or agency will provide nearly endless content design options to differentiate yourself from your competition and grab the attention of your audience. In many cases, when using templates, you don't have the design options you need or the opposite - it has too much of what you don't need. It's the idea of trying to fit a square in a circle. With custom created content, you can get exactly what you want, and maybe even things you didn't know were possible because it's tailored to your business. Custom designers will help you keep your content relevant and advanced.
We all like things that can be done quickly. Everyone likes the fastest way to get to their solution. Using template-driven software seems like the answer to that problem. One, two, three... it's up and running! But does custom content truly take more time to implement? No matter which road you want to take, you've likely done the research and have decided to either buy the template software or work with a custom content creator. If you've thoroughly researched options for custom content creators, you may have noticed that not all content creators have a long period of design or turnaround time. You can grow a relationship with a creator where projects can be turned around faster than it would take you to stop what you're doing and edit a template that doesn't fit all your requirements.
Outdoor LED Displays - Show Reel by Render Impact from Render Impact by SPI on Vimeo.
Management
Management goes hand-in-hand with time. Do you have an employee in-house that can edit the templates or will you have to hire someone new? With custom content, you are able to send off your ideas and supporting assets of what you want created and a team of experienced designers will take care of the work for you. That is their only job, to make sure your digital signage advertising is perfect and effective so you can maximize your investment and engage your audience. You don't have to worry about putting something together quickly and at the last minute - which usually ends up being ineffective. You can focus your attention on other important aspects of your business.
Audience
Studies support consumers wanting digital signage to be personal. Customers want to know you are actively acknowledging their wants and needs. This is where custom created content soars past template-driven content. It shows that you are taking the time to learn about the buyer and respond to their needs, which will make them a loyal customer in the end, telling others about their amazing experience. You have a much better chance of making your content effective for your audience by choosing to custom create it.