What do you think of when just the word 'casino' is mentioned to you? Is it the thought of getting dressed to the nines for a night out on the town, or the sound of coins dropping down after a jackpot win, maybe even the bright lights that are trying to capture your attention each way you look. Something you can't say is that casinos aren't finding new ways to keep them on your mind. Digital Signage has become a hand-in-hand operation with casino work, so are you optimizing on all of your digital content options?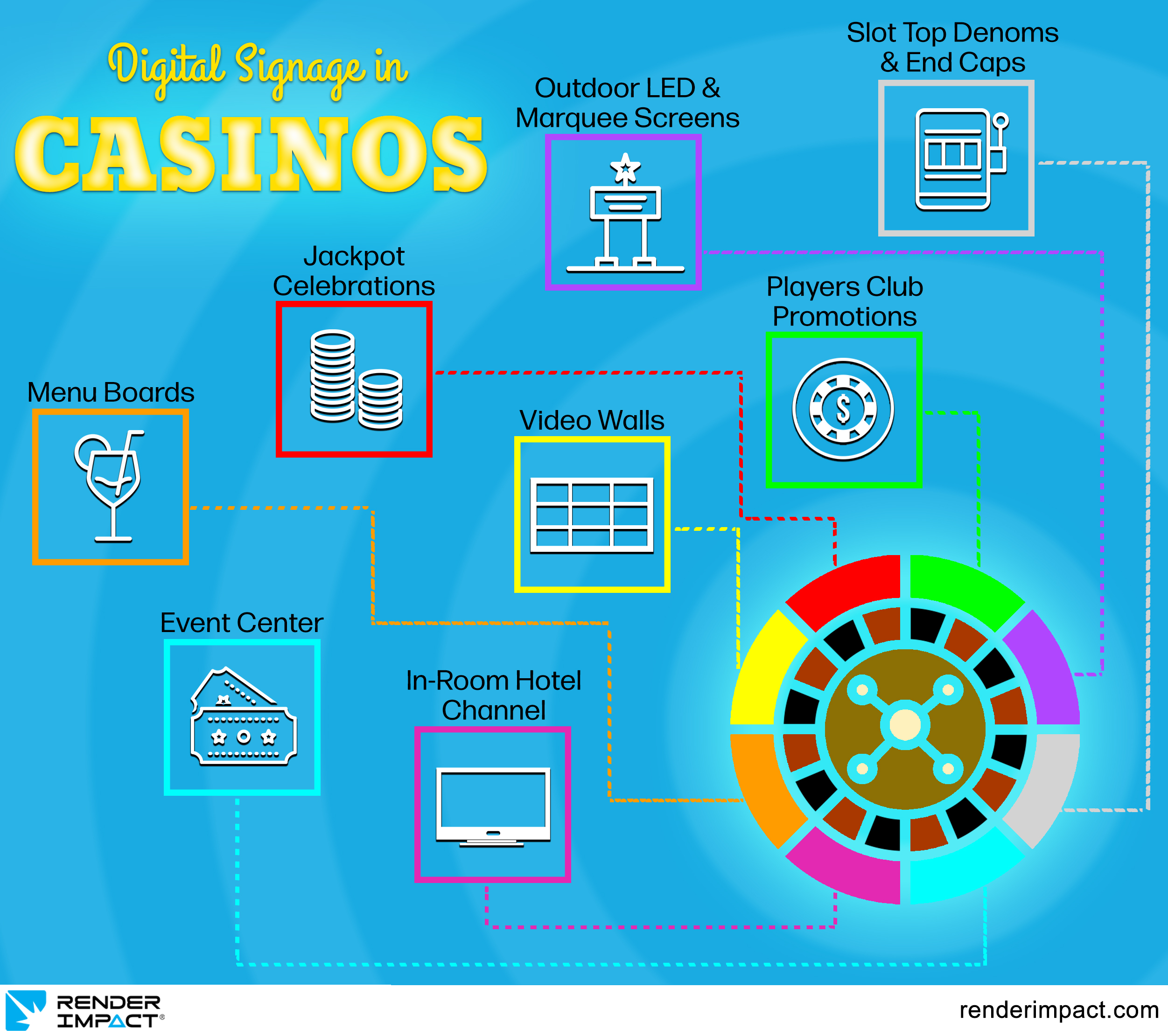 Slot Top Denoms & End Caps
Why use boring, static graphics on your slot top denominations when you can use dynamic animations? Bring even more excitement to your casino floor by using 3D-animated, slot top denominations to match any style or theme you can imagine!
Outdoor LED & Marquee Screens
Playing high quality video content on your outdoor LED or Marquee sign presents a huge opportunity to dramatically impact your drive-by or walk-by audience and create calls-to-action. Whether your LED display is intended for casino decor or outdoor signage, we have the recipe and skills to produce content that will get the most return out of your investment.
Players Club Promotions
From Giveaways to Promotions to Exclusives, the possibilities are endless to let your players know you are always thinking about them. Use your Digital Signage to promote new events that will get your players continuously coming back and engaged with your casino.
Jackpot Celebrations
Get your entire casino floor excited when a jackpot hits! Custom, attention-grabbing jackpot celebrations will heighten the entertainment experience and make all your patrons feel part of the winning excitement. We can create jackpot animations designed to display real-time jackpot amounts, allowing you to set triggers and congratulate the winners.
Video Walls
Whether you're in need of artistic, environmental or advertising content, we have the design capabilities to ignite your video wall and captivate your target audience. Content is king, especially when you're talking about video walls. In order to get your return on investment, you need stunning visuals to attract, motivate, inform and entertain your most important assets – your customers. Working together, we will develop a custom solution to optimize your video wall and create a memorable experience for your guests.
Menu Boards
Take your menu to the next level and build high value customer experiences with digital menu boards. Digital menu boards influence customers during the point of purchase, improve ambiance and are easy to read. Let us create your next custom, animated digital menu!
Event Center
By using dynamic displays, concerts, shows, and conferences can be a draw to bring more guests into your casino. These signs can be used to promote upcoming events, but also be used skillfully during events to help and engage the audience. Optimizing your digital displays on property can make a huge impact on the success of your marketing efforts.
In-Room Hotel Channel
Enhance your guests' experience by extending your brand and reach to the in-room TV's. Inspire experiences and communicate your brand by promoting your amenities, services and events. We can produce engaging videos for your in-room channel that will inform your guests and get them excited to experience everything your casino resort has to offer.