Having labored through many downturns in the hospitality industry over the past forty years, and being tasked with getting people to return, these are my recommendations.
During the attacks of 9/11, many people ceased to travel or even visit places of previous entertainment enjoyment. In the aftermath of Hurricane Katrina on the Gulf Coast, many people were shutout of their release and went into hibernation. During the 2008-2009 recession, many customers did not enjoy their entertainment release or seriously curtailed their activity. In all these cases, outdoor advertising (digital during the recession of 2009 – 2011) came to the rescue in keeping the customer in touch with venues, brands and organizations.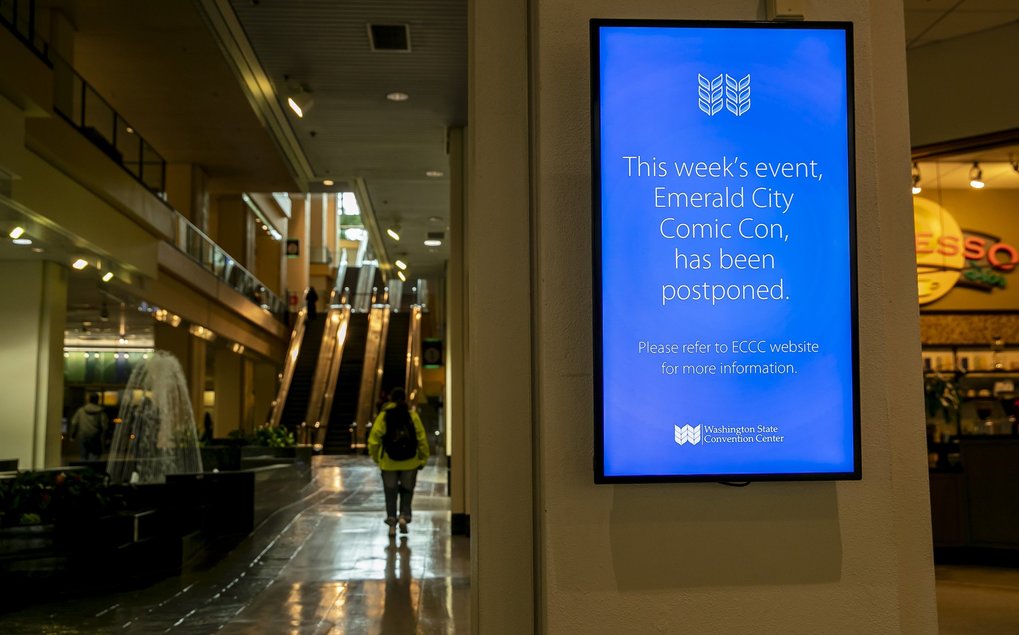 Image: Seattle Times
Many of you utilize digital displays with dynamic media to excite, enrich and inform your guests as to the offerings available at your facility. This is the time to offer encouragement, information and knowledge of what you know is coming. Clarity and comfort can go a long way at a time like this. This is not the time to say what you have (unless it's valuable resources for those in need); it is the time to say who you are, what you stand for and how you can help. The encouragement and information will keep most of your guests and patrons (present and future) aware that you care. You are one of the local or regional entertainment establishments and your digital media may be in their neighborhood, where they are unfortunately trapped at the moment.
Your digital media can drive customers to remember what you did during this horrible time, as to what you donated (be it food, employee hours, shelter, etc.), what you believe in and what your mission is. This is not a declaration to earning money, this is a commitment to your community, no matter how large it is. Having seen recent local and national reports or what the business community is doing, the media is starving to park outside your property and report on your altruistic deeds.
Digital media is spread through every outlet these days and can be a vibrant social media "hook" across all the platforms and digital media you utilize. Having the ability to ensnare the attention of your guests through every channel available is paramount to the facility's success and future. Taking your digital message viral to your customers should be your objective.
Hospitality is the escapism for your guests, you must give them an alternative reality on your video walls, for when they return. This is not for advertising at the moment, more as to a feeling of euphoria rather than what a venue can offer. JFK famously said - "Only Thing to Fear is Fear Itself" - removing the fear factor to visit and enjoy your venue when it re-opens should be your goal. Right now, we need calm.
This coronavirus-driven shutdown may effect your organization (based upon how many areas you are located in) for the foreseeable future. Unfortunately, many experts are estimating that for every week the facilities stand closed, it will take a month to return to the previous year's standards. That is a terrifying outlook. There will be organizations that will not return from their closures so make sure that your venue and brand is repairable and can return, if not stronger, at least in a more identifiable manor.