This is not the first time that uncertainty has caused the hospitality industry to come to a halt. When the industry finally re-opens, it will feel similar to a grand opening for many. This time, however, it will be much different.
What To Communicate
When the hospitality industry re-opens, employee communications will be more crucial than ever. The success of establishments such as casinos and resorts will depend heavily upon their ability to communicate accurate and up-to-date information to their employees. New policies, procedures and safety protocols will be an integral part of the re-opening plan and will need to be strictly followed in order to keep employees and customers safe.
Every hospitality establishment will need to learn best practices and actionable ways to communicate with their employees during this COVID-19 pandemic. The more accurate information they have at their avail, the greater the stream to others and to the customers that are returning to their facility. HospitalityNet provided this set of checklists for effective communication by hospitality leaders during this unprecedented pandemic.
Where to Communicate
Every facility has areas where information is disseminated to employees in back of the house areas (be it at security check-in, punch clocks, EDR, break rooms, interior hallways, restrooms, etc.). If you have information televisions (digital signage displays) for your employees in the back of the house, this is the time to inform, welcome and motivate, as they may feel as overwhelmed as your customers. They are the eyes and ears of your customer and can quickly seek information and answers to the inevitable questions that will be arising.
Giving your employees continual updates with new and evolving information through varying digital communications platforms such as social media, digital signage displays and of course email, will keep them informed and aware. If you don't have digital signage displays in the back of house, now may be the time to make that investment. Using digital displays with plug-and-play media players is a powerful way to boost communications. It's certainly much more effective and efficient than printing dozens of posters.
It's also important to note that social media and online platforms can turn employees into de facto spokespeople for your organization. Whatever they share on their platforms about working for your company will reflect how you communicate with them. Those communications — or lack of a clear, consistent message — can result in a better brand image or sprout into a new crisis.
Reduce Fear
Fear of the unknown can be the largest detriment to a customer's reaction to your facility. Fear by your employees will only reinforce the fear to your customer. Nothing causes greater fear than misinformation and lack of communication.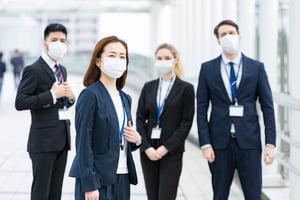 This article published by Hospitality Technology details a recently conducted survey of 1500+ U.S. consumers to gauge how the COVID-19 pandemic was influencing behavior across healthcare. One of the key takeaways is that guests will seek out brands that are transparent with their responses to COVID-19.
Be sure to address all of their concerns and frequently asked questions. In the case of the COVID-19 pandemic, some of the questions will revolve around new policies, schedule changes, safety protocol and other operational issues. Having the ability to reach out to your employees with vital, up-to-date-information is important to keep personnel and stakeholders aware of the ever evolving situations that will occur in the coming months. Clear communication is crucial to stability and effective communication becomes even more critical during times of crisis and uncertainty.