In the world of advertising and marketing, in regards to out of home communications, digital signage has become a key component of media that provides a perfect tool for businesses. However, in order for digital signage to become effective, the screen orientation must also be considered apart from all the other aspects.
In terms of traditional digital signage displays, the screen orientation can be either a horizontal landscape orientation or a vertical portrait orientation. So, how do you know which screen orientation is perfect for your digital signage?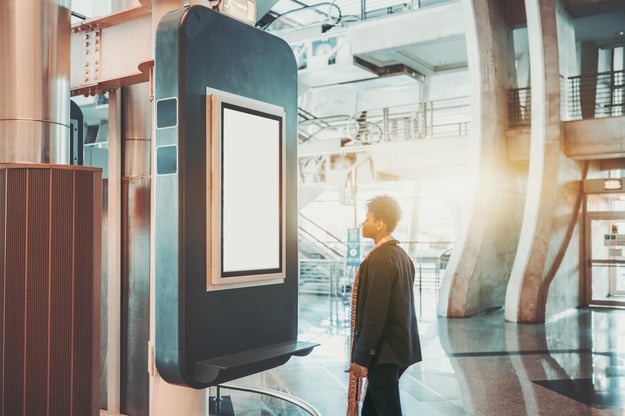 Landscape Orientation
Landscape screens are considered one of the most sought-after design screens because of its diversified size. This is due to the fact that it looks similar to the size of a TV screen, which makes it more appealing than the portrait signage. Additionally, most videos are shot in landscape format, thus making this orientation the more suitable orientation. To top it all off, studies have shown that landscape-oriented screens are recalled by humans better than the portrait orientations as it is the nearest to a human's actual field of vision.
Portrait Orientation
In the case of portrait orientation, it is useful for product-specific requirements, such as brand or product emphasis. Portrait-mounted screens are useful for items that have specific business needs. Others may need the portrait-mounted screens due to space requirements such as in building directories, on narrow columns or for digital menu boards.
How does it really fare when it comes to which type of orientation you need for your business marketing strategies? Here are some of the guidelines that need to be considered for you to have a guide:
First, decide on the orientation at which you will hang the digital signage display - whether it should be hung on +90 or -90 degree orientation.
In regards to content, what works in landscape orientation doesn't always work as well for portrait orientation. Portrait screens are not very message friendly, unfortunately. They do not have the horizontal width that allows a headline to span more than three or four words before wrapping to the next line. However, important messages don't always need to span from side to side to ensure someone will read it. If the message is backed up by good visuals, a lot can be understood from the synergized content as a whole.
You, as a business owner, should consider portrait screens if you have a content strategy that you would want to convey on that particular screen. From a content creation standpoint, this orientation can be a challenge to work in as most of the media, such as videos and pictures, are usually orientated in landscape. It is not necessarily successful to put such media on a portrait screen as it can do more harm than good. If you do not have an experienced digital signage content designer on staff, then you should consider outsourcing content creation to an experienced motion graphics agency.
In summary, landscape-oriented digital signage displays get more use than portrait-oriented displays due to the fact that the resources are in line with their format. However, portrait screens can still be useful for specific purposes. Whatever orientation you will be using, make sure that you make the necessary changes in order to fully utilize the screen that you would like to use.